(我們親愛的朋友寄來的名信片~ A postcard from our dear friend.)
ABOUT Teacher Natalie Lui 有關呂慧妍老師
Laughter Yoga Master Trainer (Laughter Yoga University 印度⼤笑瑜伽大學) 大笑瑜伽首席培訓講師
Hatha Yoga Teacher (RYT200) (Rishikesh Yog Peeth 印度) 哈達瑜伽老師
Registered Social Worker 註冊社⼯
M.S.Sc. Of Social Science in Social Work (The Chinese University of Hong Kong) 香港中文大學社會科學碩士(社會工作)
Natalie Lui, 大笑瑜伽⾸席培訓講師,哈達瑜伽老師,註冊社工,前中學教師。於2011年年於印度⾸次遇上⼤笑瑜伽,跟⼤笑瑜伽創辦⼈Dr. Madan Kataria指導下完成講師課程。同年於瑜伽之都Rishikesh,完成哈達瑜伽導師培訓課程。在培訓過程,Natalie感受⼤笑瑜伽和瑜伽對身心健康的功效,於2012成⽴私人公司 YOGAMATE在⾹港推廣⼤笑瑜伽和瑜伽減壓。於2015年Natalie再次於印度完成由Dr. Kataria的個別指導成為大笑瑜伽⾸席培訓講師(Master Trainer)。 
由2012年至今,Natalie跟本地及澳門不同的企業、非政府機構、公營部門、醫院、大學等提供不同的⼤笑減壓課程,包括⿆當劳、中國移動、AIA保險公司、羅兵咸永道會計師事務所、香港蜆殼有限公司、美泰玩具亞太有限公司、恆隆地產、醫院管理理局、社會福利利署、職業及安全健康局、立法局秘書處、澳門復康會、⾹港家庭福利會、東華三院、⾹港女青年會、香港理工大學、香港科技大學、香港浸會大學等。課程一致獲得參加者的好評。 
Natalie自2014年在⾹港培訓大笑瑜伽導師,至今大概有四百多位導師完成培訓,也對他們帶來個⼈ 成長。此外,Natalie更跟不同的企業及組織協作辦不同的⼤笑瑜伽企劃,於⾹港推廣身⼼精神健康,包括⿆當勞公司合辦世界大笑⽇日2015、Imperfect大笑俱樂部、⾹港電台社區廣播節目《⼤笑減壓充電室》以及⾹港理工大學護理學院大笑瑜伽研究計劃⼩組成員。於2016年Natalie在香港成立的公共性質慈善機構「⾹港大笑瑜伽學院」旨在透過大笑聲為社會上所有人建構一個健康和快樂的社會。
Natalie老師曾接受不同媒體訪問包括:香港電台、新城電台、明報、蘋果日報、Sunday Kiss、Sports Soho、壹週刊、TVB週刊、亞洲電視、無線電視等。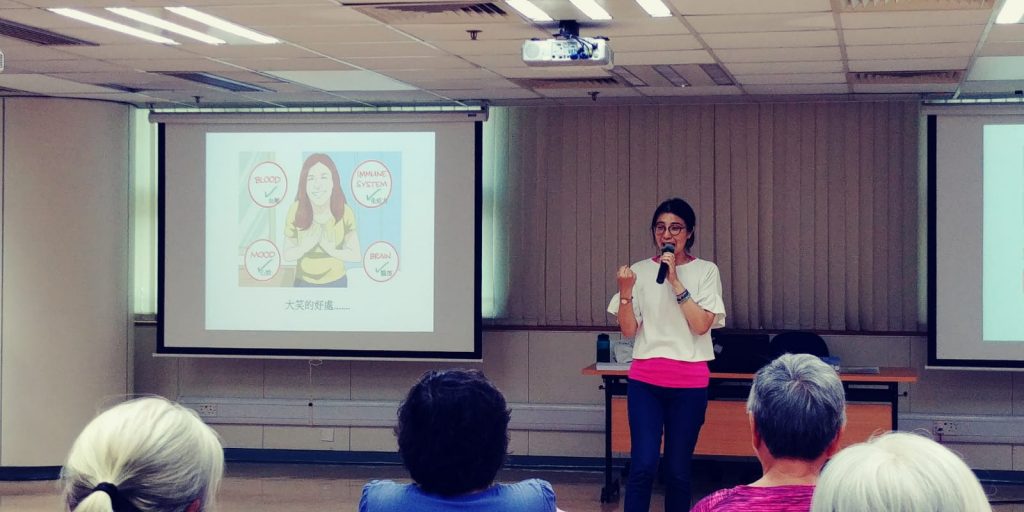 Natalie Lui, Laughter Yoga Master Trainer, Hatha Yoga Teacher, Registered Social Worker and ex-secondary school teacher. She have the teacher training by the Founder Dr. Madan Kataria in 2011 at India. After that she studied Hatha Yoga teacher training at World Capital of Yoga, Rishikesh. During the trainings, Natalie felt the benefits of Laughter Yoga and Hatha Yoga for physical & mental health. She started her own small business named YOGAMATE at 2012 to spread yoga and laughter yoga.  In 2015, she attained the level of Laughter Yoga Master Trainer after private tutorship by Dr. Kataria in India. 
Since 2012 till now, Natalie conduct the signature Laughing for stress management training to different organization, corporates, hospitals, universities in Hong Kong and Macau with positive feedbacks from organizers & participants includes McDonald's, China Mobile Hong Kong, AIA Insurance, PWC, Shell Hong Kong, Mattel Hong Kong, Hang Lung Group, Hospital Authority, Social Welfare Department, Occupational Safety & Health Council, Hong Kong Polytechnic University, Hong Kong Baptist University and many more. 
Natalie also conducted train the trainer programmers since 2014, and more than 400 trainers completed the trainings and spread laughters in their own communities and networks. She also have special projects to spread health & happiness via laughing with corporates and organizations, such as McDonald's World Laughter Day project, Co-Design Imperfect Laughter Club, RTHK CIBS's Radio program " Laughing Station" and Hong Kong Polytechnic University Nursing Department research project on Laughter Yoga. In 2016, She founded the registered charity Hong Kong Laughter Yoga Academy to co-create a healthy and happy community via laughing.
Teacher Natalie also attended various media interview such as RTHK, Metro Radio, Sports Soho, Ming Pao Daily, Apple Daily, ATV, TVB, Sunday Kiss, TVB Weekly and so on.